I've been wanting to collect those spreads for ages!
Many deck creators/lwb authors add deck-specific spreads to their decks. Some of them look really promising and I'm sure can be used also with other decks. I want to collect some here.
Tarot of the Secret Forest - The Garden in the Middle of the Forest spread
Wow, this spread looks pretty similar to Barbara's General Spread that I just wrote about in the spread books thread! That's how it looks:
__________A______________
1_________2_____________3
__________B______________
1, 2 and 3: past, present and future - the passage of time and the center of our secret garden
A: fears
B: hopes
Actually, I'd change places for A and B to make it more similar to the center part of the Celtic Cross.
I must say, this is not a very original spread - it's a variation of some CC positions. Well well, the deck is brilliant so let's forgive them for this not-very-secret-foresty spread.
Constellations Tarot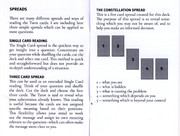 It's easiest to put up the scan from the lwb. Oh there's a black hair from my beloved old black cat - he's always next to me :-)
I'll continue to add spreads here, I think this might be an interesting collection and inspire people to think about the relationship between deck and spread.