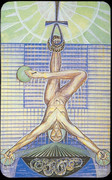 In order to see where in my opinion inspiration for this image came from, we have to turn the Hanged Man around. Sorry for the sacrilege.
You all know the Vitruvian Man in one version, Leonardo da Vinci's. But quite a lot of artists have illustrated the principle explained by Vitruvius. One of them is the Italian painter
Cesariano
.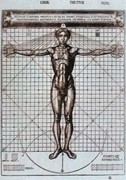 I think there can be no doubt that Harris took a good look at this illustration when she created the Hanged Man. Let's see them side by side.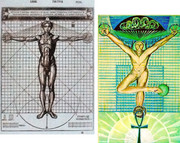 The geometrical grids fit together. Even the half circles appear in Harris' composition; she moved them to the top and bottom.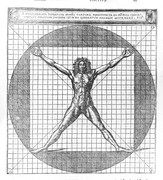 Cesariano separated the different positions of the "human in square" and "human in circle" that make up
Vitruvius' theory
into two illustrations. Harris may have taken the arms from one picture, the legs and grid from the other.
I made some years ago a little experiment and overlaid one image with the other.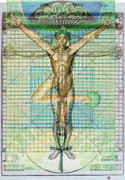 The famous "weird foot" of the Hanged Man is another indication that Harris worked here from a model and ran into problems when she changed the position of the foot. It doesn't really fit the rest of the image.