There are many good wheels of correspondences on the Internet that show you how the zodiac wheel and the tarot are connected. Most of these are based on the Golden Dawn system of correspondences, and that's what I want to talk about here. (There are other systems here, but for simplicity's sake, let's stay with the GD system right now).
You can print out a wheel that will show you the regular heartbeat of season, zodiac sign and tarot suit.
(
source
)
(they forgot to add Cups to Scorpio, don't know why but it's easy to add)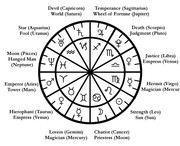 Corinne Kenner's wheel is filled with symbols which is great - you should learn the 12 sigils of the zodiac and the additional 7+3 for the planets with ease since they're self explaining. This wheel is nice because it tells you the tarot major for the zodiac sign (Aries - Emperor) and also for the planetary ruler of the sign (Mars rules Aries so it's Mars - the Tower). I wanted to have that info in my wheel as well. But much much more :-)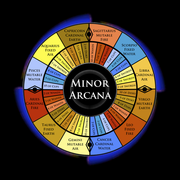 (
source
)
The three decans for each zodiac sign, for example!
For a while, I went wheel shopping ;-) on many sites and compared how they organized the information - and whether all the information I wanted was there.
I personally really like the look of this wheel:
(
source
)
It's filled with information. I like its density. I wanted to make my own, and I didn't want to print it.
I took a piece of strong paper big enough for my idea (I always re-use old art calendars - lovely paper most of the time) and dividers, and I managed not only to make a perfect circle but even to divide it into 12 equal parts! Wow me. The Internet is full of explanations if you, like me, didn't use dividers for some decades.
And then I divided the circle into many little rings and began to write down the information. Zodiac symbol, element, modality, season, dates...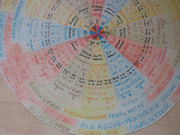 And the funny thing was that after a while, I didn't have to look at my lists and tables any more. It became obvious while I wrote what I had to write. I experienced the rhythm and regularity of the wheel. Once you understand the logic behind it, you simply know what comes next. After a Fire sign, you know an Earth sign will follow. Then Air, then Water. And the rhythm of cardinal, fixed, mutable is very logical too.
If you write down the seasons, too, all of a sudden you notice that of course you have cardinal spring, fixed spring and mutable spring. And you understand the meaning: spring bursts upon us - spring rules - spring prepares for summer. So obvious. Writing it all down brought it all home to me.
And the decan thingie? I don't know how many times I read the explanations but once I put it all down in writing, I realized the inner logic.
I had so much fun doing this that I made another, bigger and better ;-) wheel.
I colour-coded the smaller wheel and put it up on an old standing calendar.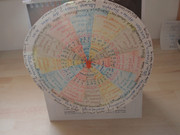 I move it every month so I can always read the current zodiac and decan information.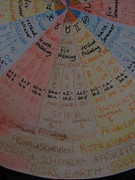 I use the bigger wheel for my tarot calendar.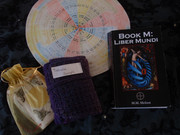 It's not only a practical thing to have around, it's also beautiful and everything we make with our own hands has a charm of its own. Filling in your wheel makes you appreciate its inherent wisdom and "rightness".
So if you're stuck with the connection between tarot and astrology or it all looks like one arbitrary system to you, invented to confuse you - try to make sense of it by making your own simple or elaborate wheel and see how things fall into place.