And here is my card for yesterday and today: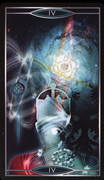 The Emperor, this card that means so much to me - and it appears regularly in my daily readings.
In the Quantum Tarot, he's associated with the Strong Force - the force that holds the universe together. It's structure, and the Freudian superego, and the Father's voice, and my husband's reassuring presence.
Ten days ago was my father's six year death anniversary. I feel closer to him in death than I ever was when he was alive. He was an Aries, and my husband is an Aries, too. My father was a coldhearted black Aries, with a malicious, hardly controlled temper that frightened me for life - even when he a sick, weak old dying man, I saw in him the bear-like angry man of my childhood. My husband is a warmhearted white Aries, with a strong will, a quick temper and a huge sense of humour that will always help us find a way to compromise and to understand each other. He was/is a strong father, demands much of his children but never frightened them. He jumped to their help whenever necessary. I gave my children the Ideal Father that I never had.
Whenever I see that Emperor, I'm glad that I didn't repeat patterns of the past and didn't marry a man like my father :-) And for me, every day is Emperor Day.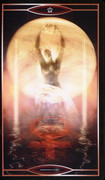 And for today, the Queen of Wands. Venus. Fiery, grand vision, it all sounds wonderful and Venus is my ruling planet. I greet the Evening Star every evening (and the Morning Star when she's up in the mornings again). The Queen of Wands is a queen I admire but I don't identify with her (ascendant Sagittarius doesn't matter). I can understand the Pentacles queen, the Cups queen, but the Wands and Swords queens have energy levels I can't match. But I should.
When I spoke with my son some days ago he said that I too easily excuse myself for things I don't do by saying "that's the way I am". He says there is no such thing. He spoke with the optimism of youth but he was right. So let's see where I can inject some Wands energy into my life.
After all, Wands cards have popped up repeatedly and told me to get on with my stuff, my ideas, my projects.
Isn't it time I should listen???