Hello, dear friends!
We would like to present to your attention friendly wisely RUSSIAN LUBOK TAROT DECK.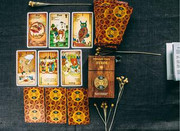 Cards was creating for 2 years by 2 great Tarot Masters:
❂ Sergey Savchenko (24-year experience practicing tarot in Russia)
❂ Eugene Vinitski (professional cinema artist and tarot master, live in Switzerland)
A lubok is a Russian popular print, characterized by simple graphics and narratives derived from literature, religious stories and popular tales. Lubki prints were used as decoration in houses and inns. Early examples from the late 17th and early 18th centuries were woodcuts, then engravings or etchings were typical, and from the mid-19th century lithography.
Lubok is not just a graphic genre; it has formed an entire culture around itself, which also includes skits and buffoonery — i.e. fairground theater performances (with clownade and harlequinade), the foolery of peddlers, market-place theater, and style poster. In this case, cheap popular prints or lubok can be perceived not only as a separate image but as a graphic sketch — a 'still' from a folk carnival or a fragment of a booth festival, halted in its dynamics. A lubok picture is an 'image within an image,' a sign of a sign, an increased measure of the convention, which transfers the viewer into a special game reality.
All images in the Russian tarot deck Lubok are expressive; every detail has its own meaning. If you grasp the images and symbols inherent in the figures, you will not need to memorize the cards' meaning.
❂❂❂❂❂About the deck❂❂❂❂❂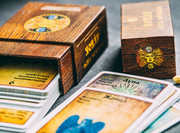 ❂ 78 Cards (+2)
❂ Standard Tarot Card Size: 2.75'' × 4.75'' (70*120mm)
❂ Durable long-life cards 350gsm
❂ Safety Cover box
❂ An additional box is not needed
❂ High premium quality pictures
❂ Friendly tarot cards for beginners
The artwork is stunning absolutely unique illustrations and tarot deck suits. Many of the cards are so poignantly beautiful it`s easy to learn tarot fundamentals. You will love to use major arcana or full deck! It is easy to read for a beginner. It's a safe deck for shadow work, for working with our innermost fears and secrets. The art work style is simple traditional fairy tales makes a strong wise impact.
❂❂❂❂❂How to get it❂❂❂❂❂
The deck is available for sale on site:
Etsy
https://www.etsy.com/shop/RussianTarotSchool
Amazone
Ebay
https://www.ebay.com/itm/172990381229
Hope you'll love to use the Russian Lubok Tarot Deck as much as we loved to make it for you! ♥