Moderator: Jo Ann
Forum rules
List what you think is the best Book. Only one per person.
Tarot Correspondences Ancient Secrets for Everyday Readers (includes over 100 essential tables & charts) by T. Susan Chang
________________________________________________________
Know Your Stuff -My Card Lists -My Think Tank Blog
Rooster Mama
here, my sidekick Yarr
his spirit guide
and me wee beastie
Familier!
---
---
Posts: 4
Joined: 06 Jul 2017, 01:57
Location: the mountains
"The Tarot Guide to Love and Relationships"
by Nancy Shavick; (really, all of her books, but I had to choose just one)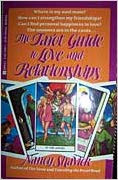 Faire
"Whatever a man has in superabundance is owed, of natural right, to the poor for their sustenance." Thomas Aquinas


"From each, according to their ability, to each, according to their need." Karl Marx


"SOOTHSAYER"
---
---
Posts: 411
Joined: 18 Jul 2017, 12:49
The book on Tarot I cannot remember the title to that I took out of the library many years ago. It by far was the most accurate for readings when it came to Tarot down to deaths and extramarital affairs. All kinds of things even Lotto wins!

I really WISH I could find that book of all books.
Truth will always be truth, regardless of lack of understanding, disbelief or ignorance.

W. Clement Stone
Be the change you wish to see in the world.
Ghandi.
---
---
Global Moderator
Posts: 1667
Joined: 05 Jul 2017, 05:02
Location: between the mountains and the sea
Contact:
Benebell Wen's Holistic Tarot. (That was difficult! so many great books to choose from....)
---
---
Posts: 8
Joined: 19 Dec 2017, 10:39
Eliphas Levi, Transcendental Magic

Sent from my Moto Z (2) using Tapatalk


---
---