I DUB THEE...
I dub or christen thee:
The 3 in 1 Lenormand deck.
Cannot wait for you to arrive and to be brought home to be a part of my Lenormand family.
You most definitely will not be put on any dart board or roulette wheel.
HOW I FEEL NOW YOU ARE COMPLETED!
STARS.....SUN....LILY
Could not be truer! Am quite happy and satisfied with what has been achieved, and although it is not physically in my hands, I think it is right up there for me when it comes to simplicity, quality, and near perfection.
According to my own personal tastes and expectations.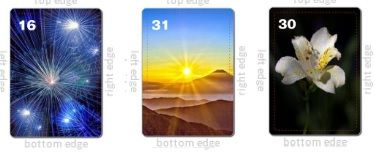 NOTE:
Cards pulled from the Blue Owl first and then found one by one in the program.
NOTE II:
Something is lost from print screening, editing, uploading then transferring. By the time it gets here (on Eclectic) it is not the same high quality at all.