Forum rules
This forum is intended for use by artists of all types of cards as a gallery of your work.

Feel free to present your work any way you'd like. You are encouraged to post images along with any text or links. We are looking for presentations of work from the perspective of the person(s) who made it.

If you are not the artist but would like to present a deck, perhaps the Reviews forum is more appropriate for that.
Holly shit...it gave me the shudders. Tell me about this dream?
---
You are VERY talented Brighteye!
Those drawings are beautiful.
Never underestimate the power of stupid people in large groups.
---
Thank you, DDwarks.
The Ammonite's Dream: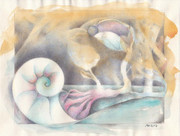 This one is semi-automatic, especially the background. The combination of paint and paper structure suggested shapes to me that I then worked into the overall composition.
---
Joan Marie
Oh my, That's so nice. I'm very fond of ammonite. I have given it often as a wedding gift, two matching mirrored pieces.
Again, beautiful work. I feel so lucky that you share it with us.
---
Joan Marie

wrote:

↑

18 Aug 2017, 05:02

two matching mirrored pieces.
I have two of those too. I love the idea. The chambers in ammonite anatomy also evoke the notion of home, of being sheltered and housed (I think I read that somewhere), so for me they've become talismans of belonging.
---
Brilliant artwork! I would say you are fond of gazing :)
---
Thank you, Wizz. I like drawing what I see, either with my outer or my inner eye, or both.
---
Awesome! I'd like to know what did you look at when you got the last one and draw it as is!
---
You mean The Ammonite's Dream?
---