Forum rules
This forum is intended for use by artists of all types of cards as a gallery of your work.

Feel free to present your work any way you'd like. You are encouraged to post images along with any text or links. We are looking for presentations of work from the perspective of the person(s) who made it.

If you are not the artist but would like to present a deck, perhaps the Reviews forum is more appropriate for that.
oh wow, i hadn't seen these! wonderful work, brighteye! "song of the paraclete" is gorgeous, the color is very piscean and appealing... i really admire your abilities. thanks also for your intuitive art reading the other day... it was quite touching.
---
I'm glad to hear you like your reading as well as this thread.
---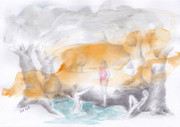 ---
oh so gorgeous... love the ochre yellows. like bathed in sunlight. so calming.

i hope you signed up to do a card or two for the eclectic tarot!
---
Thank you
Yes, I did.
---
Not sure what to call this. I've tried out various titles but each seems to narrow the story down too much.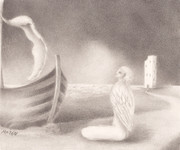 ---
Thank you. I can't decide whether it's good enough to post on my blog. Not this thread, I have a blog online.
---
it's definitely good enough!

you should link your blog in your sig line or profile, i'd love to see it.
---
All have images disappeared. I guess it's because of the recent technical fault?
---