I've asked my Thoth about the best time of day to take one of my meds.
I don't think it matters BUT I wondered if perhaps it could be more effective taken before bed, ready for the next day or early morning, before the damage occured.
Anyway, I got this: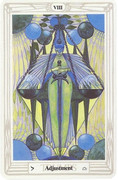 Anyone knows of any meaning within the card to determine the time of day or is the card simply saying "use your common sense!"?