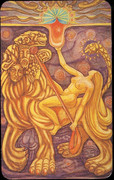 A lot has been written about the Thoth; it's an inexhaustible deck. Over the years, I have found some works of art or esoteric illustrations that may have inspired some of the Thoth's images.
Lust is one of the cards that may have been inspired by a number of works of art. This aquamanile (a vessel for water used to wash hands in a religious or everyday context) from the Lehmann collection at the Metropolitan museum: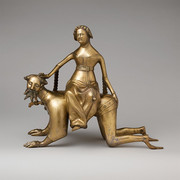 is from the Netherlands, 14th/15th century. It's
just one example
of the well-known (apocryphal) story about Aristotle's humiliation at the hands of the infamous Phyllis who rides him like a horse.
The motif of the "abandoned female" subjugating the incarnation of wisdom, Aristotle, is definitely misogynist and anti-sensual. I can just imagine how Crowley would take this motif and turn it around.
Another well-known woman riding in triumph is the
Whore of Babylon
, especially in Blake's version:
But Crowley/Harris' version shows traces also of earlier depictions: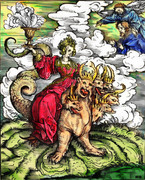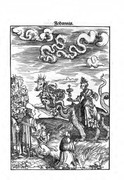 Look at the snakey clouds above this Whore with papist tiara (from a Lutheran pamphlet).
I can't prove it and the correspondence between Crowley and Harris doesn't mention any such artworks, but I'm quite sure they knew them. To prove that would be a nice little research project and more than I can do here!
I also found in Joseph Campbell's Mythologies of the East an illustration that reminded me of Lust.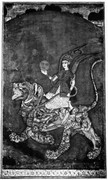 I asked on AT whether anyone knew more since I don't know enough about Indian culture and myth but nothing came of it. Most probably it's the goddess Durga - I can't say. But I can see that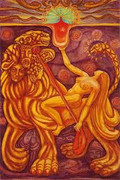 Campbell's book doesn't give further information about this image. I find the composite effect of the body fascinating and the fat paws remind me strongly of the Thoth image, even if we have only one head here.
In short, since Lust is one of the most radical
re-interpretations
of the traditional tarot card, it's likely that the new design was influenced visually by older sources - Phyllis, the Whore of Babylon and/or a triumphant lion goddess. Phyllis and the Whore of Babylon reflect the old Aeon's virtues and are depicted in a negative light, the triumphant, strong, unapologetic lion goddess the values of the new Aeon.
More about Harris' art
here
.