Here we enter the territory of groups of symbols, called emblems. In the Middle Ages, Renaissance and Early modern era, most people knew the basic symbols and emblems that we part of Christian iconography. We easily recognize whether a shoe is Nike or Adidas just by deft visual clues called logos, and an observer in the 17th century could easily recognize a symbolic depiction of an essential virtue in a painting like
Vermeer's Glass of Wine
.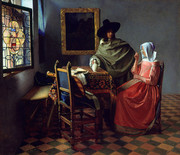 A woman drinking wine - with a man dressed in street clothes, i.e., a visitor - a risky situation. In front of her is a stained glass window with a motif she should take to heart: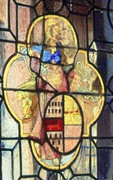 This is Temperance, the virtue of moderation, who mixes wine and water.
Books like Cesare
Ripa's
Iconologia collected such emblems or allegories, i.e., visual depictions of abstract concepts. An emblem is an assortment of symbols without human figures. In an allegory a human figure, often a young girl, personifies the concept. The things the allegorical figure carries (sword and scales, two jugs) or has with her/him (a lion or lion's skin and club) are the attributes that allow us to identify the allegory.
The virtues are still among the most well-known allegories in the Western world (the Statue of Liberty is another very famous allegory). Many courthouses have a statue of Justitia with her scales and sword, sometimes blindfolded, sometimes not. Here is one from Dublin: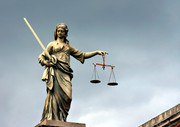 We know these virtues of course, tarot readers belong to an old fashioned class of people who know to read symbolic language from earlier centuries. We know also Strength or fortitude, either depicted in the Pagan tradition as Hercules or in the Christian tradition as gentle maiden with a lion.
These are the three tarot cards depicting cardinal virtues - but where is the fourth? Traditionally, the cardinal virtues are Fortitude, Justice, Temperance and Prudence, and they are often depicted together. The three Christian virtues are Caritas/Love, Fides/Faith and Spes/Hope, either depicted allegorically as saintly maidens or symbolically as heart, cross and anchor. Together, the Four and Three (oh beautiful symbolism of numbers) make up the Seven Virtues.
But where is the fourth cardinal virtue, Prudence? What do you think?
(to be continued)