I love Halloween and I am sure that I am not the only one. So I thought that others could share about the different items that they have bought for the season tarot related or not.
Well I have bought a few items that were tarot related I purchased a tarot deck when I was in the Halloween spirit store, and inexpensive 7.99 thin card stock, but very interesting art many cards with mystical creatures and even an Alien. Unsure how well. The use of mythical creatures will relate to the cards meaning. But I do like the art work. Here are three of the cards I like, two of swords ( ghost) High
Priestess ( fortune teller) and Judgement ( Cerberus) :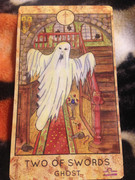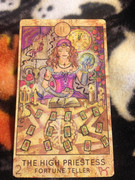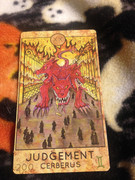 And I bought a sign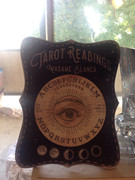 Or Halloween decorations do you have or had bought recently?