Does anyone else have and love the Rosetta Tarot? I have now the wonderful Golden Papyrus edition and the black-bordered pocket edition, and I couldn't tell you which is more beautiful (will add more informative pictures later).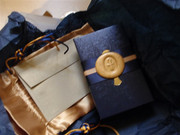 I hope I'll find the time to write a full-fledged review, but let me tell you what I love about this deck. It's like discovering the missing link between the Thoth and the Tabula Mundi, and those are my two most important decks. The Rosetta is rougher, rawer and feistier than the Tabula Mundi. The art style is more expressive and less perfect - and the experiments with different artistic mediums turned out very well. They make every suit stand out. That's most obvious in the Swords suit where Meleen used etching - a medium that has a strong character of its own and reflects the fact that you don't work on smooth paper but on copper plates which resist your hand. You can really see that resistance of the material in the lines, and I love it. You SEE that Swords mean struggle, even if everything goes well - there is always resistance to overcome with the Swords.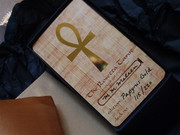 The Cups in water colours are gentler but not as "watery" as in other decks like Dreaming Way; it's quite opaque but the colours glow. I would have love seeing Meleen tackle wax/encaustic painting like in Fayoum portraits for the Wands, it would have injected them with heat and it's a technique the Egyptians loved. But that's just my dreamworld, the deck is perfect as it is. And actually, with the impasto the majors look a lot like encaustic paintings anyway.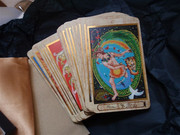 Printed with papyrus borders, the cards look like illuminated paintings from a lost manuscript where the dry heat of the desert sand preserved the papyrus perfectly, and the colours stand out.
On black borders, the colours look even stronger and seem to float in space.
I can't tell you which looks more beautiful - the hieroglyphic inscriptions on the Papyrus edition and the golden inner frame are spectacular in their own right, but the black-bordered pocket edition is amazing, too.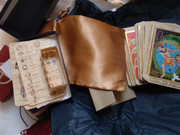 The iconography is closer to the Thoth than I expected but that's only at a first glance - then you start seeing everywhere Meleen's symbolic imagination take over. Things come alive everywhere, some of them will grow up to appear in the Tabula Mundi - and I nearly regret I knew the Tabula Mundi before (NO obviously I regret only the days I spent without the TM!!!). It must have been so exciting for Thoth lovers to hold the Rosetta in their hands when it came out first.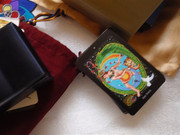 I don't have the Book of Seshet but the book of M gives me what I need to know right now, maybe I'll buy it later.
It's a brilliant, brilliant deck.
Here are some links:
M.M. Meleen's Home of the Rosetta Tarot
AT pictures
and
AT review by Sapienza
App - the Fool's Dog
Youtube: Thoth and Rosetta side-by-side
The Queen's Sword - review