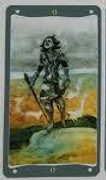 The Fool
We look at this Youth, this Student of life, dressed in black and White, holding A Staff, he walks and seems to stand upon a rock with his head turned facing upwards slightly... Rolling hills in the background, fields and a River.. on the other side of the River in through the mist we just see the Rolling hills for miles .. There are ghostly animals in the background , What do they appear to be?
From the LWB
A Wandering Fool steps out upon his life path with trusted optimism, accompanied by his loyal Spirit creatures..'
Meaning-You innocent spirit carries you forward with gentle joy ...
I feel this card carries so much more meaning than what the LWB can share with us...
For me
I see this youthful, free spirit who steps out of the darkness into the light , but yet he seems to carry himself knowing he has many shadows and lessons to learn,, he knows he must travel ahead, but in which direction does he travel first, he must decide to which path he takes, he knows he can take nothing with him but himself, he has to bare it all, taking only the bare essentials forward with him.. he must strip himself bare if he wishes to discover what lies ahead. No Colour now means he can add any colour he wishes as he travels ahead, his life starts off seeming so black and white ... In perfect trust that he will not fall , that everything will be alright. The Possibilities are endless, even when we can not truly know what lies ahead of us, because we may be truly not aware of our environment yet. Are we ready to start this amazing journey of discovery..?