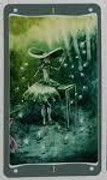 This Image of the Magician shows a person that seems to be wearing a rather large hat with a type of frock holding a large wand like tool beside a table, there seems to be a lot of fairy lights and something pink in the corner of the image ... it is very green ... so i feel it is very healing, but maybe also about the heart chakra on some level ...
We know the Magician talks about a person who is about the Illusion, creating an image for everyone to see while something else in the background is going on, we do not see the sleight if hand... This Magician asks us to look beyond the illusion, see what is manifested when you truly see... open you heart to all that is possible as you manifest your true desires, what do you truly want in your life, do you believe?
This card arrives to remind us that not all seem as they show us, this person who arrives may not be completely trustworthy in his dealings with you.. be cautious, be wary of what is happening ....
This card can also speak of someone who is strong willed and determined in their focus .. using all of their tools and their skills to achieve the desired results ...
LWB - The Magician gathers the tools of transformation and begins to summon elemental Spirits to work Magic...
Meanings- The Powers of transformation are at your command ....
What else does this card mean to you when you get it in a reading?
What would he say to you if you were to meet him ?